US_Pandemic Implications Report page
Pandemic Implications for the World of Work Report



The COVID-19 pandemic rocked the world economy, triggering the sharpest downturn in post-war history. While the world starts to get back to the 'new' normal, the ramifications of the pandemic are starting to unfold themselves - and it's only getting started.
'Pandemic Implications for the World of Work' is a detailed report that examines the impact of the pandemic on the global labor market and investigates potential long-term consequences.

What are the main themes of the report?
Initial impact the pandemic had on employment across the globe
The accelerating trend towards hybrid working
Borderless jobs and the ability to access larger talent pools
Rapid recoveries in many markets, some more demand than ever
Young people were hit harder in terms of unemployment than any other generation
Women were more significantly affected by the crisis than men
---
About
We have worked with
Oxford Economics
(a frequent partner of Hays), one of the world's leading independent global forecasting and research consultancies, to produce the
report
. The report uses existing research and data from global research agencies and academics, to produce an analysis into what these changes mean for the present and the future of the global labor market, specifically the 34 markets in which Hays operates.
US Additional Resources_right hand
Interested in additional resources?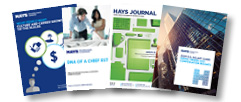 From salary guides, to blogs, career advice and more - we've got it.