US Digitizing Clinical Trials
Digitizing the Clinical Trial Talent Pipeline


There are enormous opportunities for digitization in clinical trials.

Pharmaceutical and biotechnology companies operate in a highly regulated industry, making them reluctant to risk rejection of their clinical trial results due to unfamiliar clinical trial methods. COVID-19 forced regulators and clinical trial operators out of their comfort zones.

Clinical trial sponsors and contract research organizations (CRO) rapidly embraced digital transformation in order to keep life-saving clinical trials operational. But, despite this enthusiasm, it will take time to create fully digital, end-to-end workflows for clinical trials.
In the meantime, as business leaders you have to find the "low hanging" fruit of digitalization within clinical trial workflows, so you can enjoy the benefits of streamlining earlier. You can do this by digitalizing a key component of the clinical research workflow: the talent acquisition process.
Get insight into the digitalization of the clinical trial talent pipeline and how Hays can help solve the challenges of shifting to a digital life sciences recruitment model.
What you'll learn in our whitepaper:

What managing the talent pipeline for clinical trials looks like before and after the pandemic
Understanding the difference between digitization and digitalization
How a specialist recruiting expert can accelerate the quality and speed of a clinical trial recruitment process
US Additional Resources_right hand
Interested in additional resources?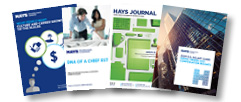 From salary guides, to blogs, career advice and more - we've got it.