The importance of having a strong organizational purpose
9 min | Alistair Cox | Article | Leadership Company management People & Culture General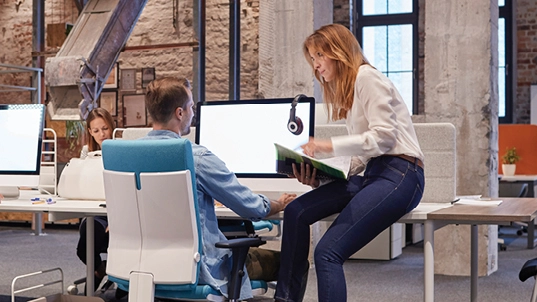 Whether it be helping to save the planet, working to improve communities, playing our part in enabling people to reach their full potential, or simply improving the lives of customers, we are all motivated by something much bigger than ourselves.
Ultimately, what all of us human beings are looking for is a reason to get up in the morning, a reason to contribute. And a big part of that sense of purpose is found in the work we do.
Why we need to find purpose in the work we do
No longer do we go to work simply to pay the bills; we go to work for so much more – to feel that we are making a difference. So much so, that, according to a survey by LinkedIn, 52% of candidates say they wouldn't accept a job offer if they didn't know or didn't agree with a company's mission, values or purpose.
But what has spurred this change on? The simple answer: The world around us. We live in an age of rapid technological change, societal and environmental movements, increased life expectancy, and changing expectations. There is a lot in the world that is great, but there is also a lot that needs to be fixed. Increasingly, more and more of us feel compelled to help fix the parts that we feel are broken.
This naturally makes us think differently about the lives we lead and the work we do. Our innate need to contribute opens our eyes, making us feel more personally accountable. It makes us question whether where we're spending the vast majority of our time, and, importantly, how we're spending that time is really allowing us to make the impact we've realized we need to make.
Organizational purpose – the hot topic around boardroom tables for years to come
The fact of the matter is that if, we, as leaders, are to really grow our organizations, we must be able to define, communicate and enact why our businesses exist. The stakes are high on this. If we fail, we will fail to make a positive impact on society and the world around us. If we fail, we will fail to give people a good enough reason to want to work for us – a reason that really hits home for them. If we fail, we will fail to engage our customers, our clients, our shareholders and our current employees. We will fail to do business. It's because of this that purpose must be a hot topic around the boardroom table in 2021 and beyond, regardless of how big that boardroom is, or where it is in the world.
Your organization's purpose is it's 'why', not it's 'what'
But what exactly do we mean by organizational purpose? Firstly, it's important to understand that your organization's mission is different from its purpose. Your mission is what you're trying to accomplish, your purpose is your why. This article provides a great illustrative example: "Toms founder Blake Mycoskie says the company's mission is to sell shoes, but his purpose is to provide free footwear to people in need." So, what is your 'why'?
For many businesses, I think this process is often more of an overt rearticulating of something that has always been there, it just needed to be brought to the surface. This was definitely the case with Hays. Every day, we help thousands of professionals to take the next step in their careers, and help organizations build talented teams. We power the world of work – that is our mission. But our purpose, which we have recently defined, is to benefit society by helping people succeed and enabling organizations to thrive – creating opportunities and improving lives. That is ultimately why we do what we do, and everyone in our business knows that, we just hadn't articulated it in this way before.
So, if you are at the start of redefining your own organization's purpose, below are some examples from leading brands which I hope will provide you with some inspiration:
"To organize the world's information and make it universally accessible and useful" Google

"To accelerate the world's transition to sustainable energy" Tesla

"To improve life here, to extend life to there, to find life beyond" NASA

"To bring inspiration and innovation to every athlete in the world" Nike
A key point to bear in mind here – your organization's purpose needs to feel authentic in the eyes of all your stakeholders. They need to feel connected to it and feel it. They also need to feel inspired by it. To them, it needs to be more than black and white words on a screen. So, take some time to put some real effort into defining it, no matter how long that process takes. It will pay off if you do.
Your organizational purpose must be embedded for it to be believable
The hard work doesn't stop once you've defined your purpose. In fact, it has only just begun. The real work begins when embedding your purpose into the DNA of your business. If you've successfully defined your purpose – well done – but this is not the time to park the entire project and move on to the next priority. Your organizational purpose should always be high on your agenda.
Worryingly, according to a PwC survey, only 28% of respondents said they feel fully connected to their company's purpose, with just 39% saying they could clearly see the value they create. This sorry state of affairs is probably, in part, down to failings in leadership. 79% of business leaders surveyed believe that an organization's purpose is central to business success, yet only 34% say they use it as a guidepost in leadership decision making processes. If your organization's purpose isn't the 'north star' for the leaders in your business, how can it be for the rest of your people?
Once your leaders are on board, it's their job (and yours) to continuously and consistently reinforce your organizational purpose internally, from this moment forward. It must form a key part of everything – your training programmers, your internal communications, your products, your services, your weekly conference calls, the benefits you offer…everything. If you can commit to reinforcing your purpose in some way, every day, you will see the benefit.
Only when your organization's purpose is genuinely embedded into your business, will it be believable in the eyes of the outside world. That process takes hard work, commitment and persistence.
Hiring purpose-driven people to your purpose-driven organization
Once the hours of brainstorming and internal back and forth have happened, and you've finally agreed on a purpose statement that everyone is happy with. Once you've done (and continue to do) the hard work of embedding it into the lifeblood of your business, how should you go about using this to attract the right, purpose-driven people to your business? This is often where many organizations come unstuck. So, here are a couple of my thoughts:
Let the unique voices of your purpose-driven people take center stage
Patagonia is often held up as a leading light when it comes to creating employee experiences that encapsulate their organizational purpose. "We're in business to save our home planet" is their purpose, and as such, they offer a number of benefits which allow their employees access to a variety of charity and volunteer opportunities to support their environmental work, including attending protests. In fact, in September 2019, Patagonia closed their offices and stores around the world, to allow their employees to join youth activists protesting for action against climate change. Companies such as Lush and Ben & Jerry's also took the same stance. Not only do actions like this really allow your brand to live its purpose, and, importantly, benefit society in the way you intend, they also allow your employees to feel more passionately connected your organization's 'why'. When they feel more passionately connected to the purpose, they are more likely to share their experiences across their social feeds, and with their friends and family. This will attract like-minded, purpose-driven people to join your business, and you will soon be seen as an employer of choice.
At Hays, our people actively share their experiences of living our purpose across their personal social media channels. Every day, our #WeareHays and #HaysHelps hashtags are used by our employees to share their stories of how they personally contribute to helping people and organizations thrive – from running resume clinics, taking part in charity fundraisers, to sharing expert advice, to congratulating a candidate on securing a new role. I'm proud of the fact that our people are truly living our purpose, and, on so many levels, it's great that they want to shout about it.
Understand which values and behaviors will help you live your purpose
It's crucial that you hire individuals whose values are aligned to why you exist as a business. So, take some time to understand which values will enable your purpose to become a reality in the long-term.
PwC recommend identifying a few critical behaviors that will help you recognize the values you're looking for. For example, at Hays, our purpose is centered around helping professionals and organizations thrive. So, one of the values we look for in those we hire is a passion for people. In turn, one of the behaviors we look for is the ability to build strong, long-term relationships with stakeholders.
When assessing these values and behaviors in an interview, try asking a few value-based interview questions such as, "Why do you want to work for us?", "Tell us about a time you made a positive impact at work" or "What motivates you to succeed?" For example, at Hays, another of our values is being experts in our field, therefore, during an interview, we will often ask questions about how the candidate immerses themselves in an industry and stays on top of trends.
---
About this author
Alistair Cox, CEO
Alistair has been the CEO of Hays, plc since Sept. 2007. An aeronautical engineer by training (University of Salford, UK, 1982), Alistair commenced his career at British Aerospace in the military aircraft division. From 1983-1988, he worked Schlumberger filling a number of field and research roles in the Oil & Gas Industry in both Europe and North America. He completed his MBA (Stanford University, California) in 1991 and returned to the UK as a consultant for McKinsey & Co. His experience at McKinsey & Co covered a number of sectors including energy, consumer goods and manufacturing.