About Hays US

Powering the World of Work®
Hays is the leading global specialist recruitment firm and has set its sights on the US. Originally entering the market in 2009, in December 2014 we acquired Veredus, a 17-year staffing firm specializing in
technology
recruitment for both contract and permanent roles. Now together operating as Hays, we are quickly being recognized as one of the leaders in specialist staffing, with
12 offices
nationally across the US to date and growing.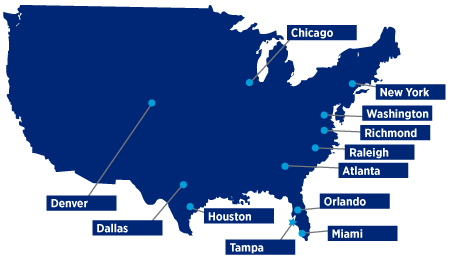 Specialist divisions include:
We are the experts in recruiting qualified, professional and skilled people worldwide, operating across the private and public sectors. Our corporate head offices are located in the United Kingdom, and we have over 12,100 staff operating from 256 offices across 32 countries across 20 specialisms. Last year we placed 60,000 candidates into permanent jobs and around 220,000 people into temporary roles.

At Hays, we believe the right job can transform a person's life and the right person can transform a business. Our people work with job seekers and employers to place the right people in the right jobs; we invest heavily in equipping our staff with the skills to perform to the highest standards while developing their careers. Providing excellent customer service underpins our business and is an area we monitor closely in order to maintain our position as market leader.
Most recently, Hays ranked 6th on SIA's 2020 Largest Global Staffing Firms list and was named as one of the 2020 Largest IT Staffing Firms in the US.

To find out more about Hays, please visit Hays PLC.
US Call to Actions_right hand
Find your dream role or get a taste of what's out there.
---
Let us help you hire and retain top talent.
---
12 offices across the US and growing.