About Hays U.S.

Working for your tomorrrow
Hays is a leading global recruitment firm with a 21-year track record operating in the U.S. in permanent and contract staffing. Today we are recognized as one of the leaders in technology and construction recruitment, with
13 physical offices
nationally including our recently opened Los Angeles office, and more to come.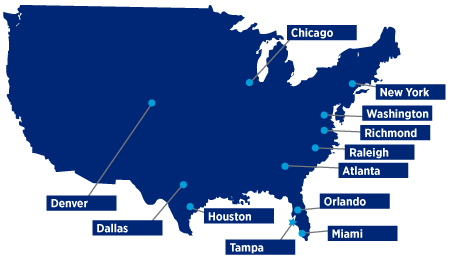 Expertise in seven industries and professions including:
Hays plc (the "Group") is the world leading specialist in recruitment and workforce solutions, such as RPO and MSP. The Group is the expert at recruiting qualified, professional and skilled people worldwide, being the market leader in the UK and Australia and one of the market leaders in Continental Europe, Latin America and Asia. The Group operates across the private and public sectors, dealing in permanent positions, contract roles and temporary assignments. As of June 30th. 2022 the Group employed c.13,000 staff operating from 255 offices.

So much more than a specialist recruitment business, what really sets us apart is our knowledge through scale, deep understanding and our ability to meaningfully innovate for our customers. By providing advice, insights and expertise on issues you face today in the fast-paced world of work, we help you make the right decisions for tomorrow.
Most recently, Hays ranked 6th on SIA's 2020 Largest Global Staffing Firms list and was named as one of the 2020 Largest IT Staffing Firms in the US.

To find out more about Hays, please visit Hays PLC.
US Call to Actions_right hand
Find your dream role or get a taste of what's out there.
---
Let us help you hire and retain top talent.
---
13 physical offices across the U.S. and growing.