US Global Skills Index 2018
Global Skills Index 2018




In 2018, the Index score declined for the fourth year in a row, suggesting the labor market is experiencing less pressure. Robust job creation is exceeding predictions and the unemployment rate is back to levels last seen before the financial crisis. However, this means a tighter talent market in the short-to-medium term.
Get your copy of the latest GSI now to discover the three key drivers affecting your ability to find the skilled candidates you need.
---
About
The Hays Global Skills Index (GSI) is your comprehensive overview of the professional global labor market. Examining 33 countries, it assesses the key trends and challenges facing organizations as you search for the most sought-after skilled talent.
US Additional Resources_right hand
Interested in additional resources?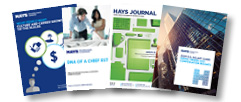 From salary guides, to blogs, career advice and more - we've got it.