New York City FC and Hays Renew Partnership for Sixth Year by Highlighting Front Office Leadership

March 9th, 2020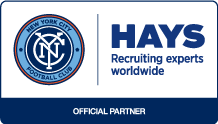 New York City Football Club (NYCFC) and Hays, the world's leading recruiting experts in qualified, professional and skilled people, are proud to announce the renewal and expansion of their current partnership. Hays will continue to deliver specialist recruitment services to NYCFC, strengthening the Club's front office by securing the best talent in the industry.
Sholto Douglas Home, Hays Chief Marketing Officer, said:
"Hays has always been extremely proud to have been a founding partner of New York City FC.
"Over the last six years, we have supported the Club in their professional talent needs by assisting in the recruitment of key front office staff who have become integral to building this successful soccer club. The Club's growth and progress over this time in many ways mirrors how we have grown our own presence in New York and more widely across the US.
"We are delighted to be announcing this extension to our relationship with New York City FC and are proud to be strengthening our affiliation with City Football Group, alongside our partnerships with Manchester City and Yokohama F. Marinos."
As part of the renewal, Hays, the Official Recruitment Partner, and New York City FC will be continuing a Q&A series highlighting senior staff at NYCFC and their evolution in career development. Throughout the season, on match day and on NYCFC social platforms, fans and Supporters can follow the Hays Q&A series.
The first two interviews of 2020 highlight the careers and experiences of Kali Franklin, Vice President of Human Resources and Sarah Bishop, Vice President of Marketing. As leading women within the sports industry, both Vice Presidents spoke upon how the game of soccer inspires them and what it means to be an expert and leader in their field.
Brad Sims, CEO of New York City FC, commented on the renewal:
"I'm a firm believer that 'talent wins,' and this partnership has been instrumental in recruiting diverse and top talent to NYCFC—after six years of working together, Hays understands the Club's culture and values.
"Together, NYCFC and Hays unveil "Starting 11," which focuses on how NYCFC recruits a first-class talent pool into a winning club. Off the pitch, Hays will continue to deliver best-in-class services to NYCFC, continuing to strengthen the Club's front office by securing the best talent for its future."
---
About Hays
Hays plc (the "Group") is a leading global professional recruiting group. The Group is the expert at recruiting qualified, professional and skilled people worldwide, being the market leader in the UK and Asia Pacific and one of the market leaders in Continental Europe and Latin America. The Group operates across the private and public sectors, dealing in permanent positions, contract roles and temporary assignments. As at 31 December 2019 the Group employed 11,600 staff operating from 266 offices in 33 countries across 20 specialisms. For the year ended 30 June 2019:
– the Group reported net fees of £1,129.7 billion and operating profit (pre-exceptional items) of £248.8 million;
– the Group placed around 81,000 candidates into permanent jobs and around 254,000 people into temporary assignments;
– 18% of Group net fees were generated in Australia & New Zealand, 27% in Germany, 23% in United Kingdom & Ireland and 32% in Rest of World (RoW);
– the temporary placement business represented 57% of net fees and the permanent placement business represented 43% of net fees;
– Hays operates in the following countries: Australia, Austria, Belgium, Brazil, Canada, China, Colombia, Chile, the Czech Republic, Denmark, France, Germany, Hungary, India, Ireland, Italy, Japan, Luxembourg, Malaysia, Mexico, the Netherlands, New Zealand, Poland, Portugal, Romania, Russia, Singapore, Spain, Sweden, Switzerland, UAE, the UK and the USA
---
About New York City Football Club
New York City Football Club (NYCFC) is an American professional soccer team that competes in Major League Soccer (MLS) in the Eastern Conference of the League. It was announced as the League's 20th franchise on May 21, 2013 and is the first and only MLS Club located within the five boroughs of New York City. NYCFC kicked off its inaugural MLS season in March 2015 and is majority owned by City Football Group (CFG). In 2019, the Club finished top of the Eastern Conference and qualified for the 2020 Concacaf Champions League for the first time in franchise history. NYCFC's Academy features teams from the U-12 to U-19 age groups and became the first Academy in the country to win back-to-back national titles at the U-19 level. NYCFC proudly supports City in the Community (CITC) foundation to use the power of soccer to uplift communities; one of the programs, New York City Soccer Initiative (NYCSI) is a first-of-its-kind public-private community partnership to open 50 mini-soccer pitches in underserved NYC neighborhoods in five years.