Work-life balance is just as important as salary
3 mins | David Brown | Article | Workplace Wellbeing Work-life balance Leadership People & Culture Retention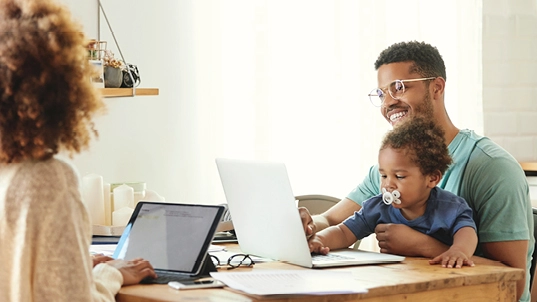 Salary isn't the end-all-be-all when it comes to the job hunt. It is definitely important to be paid your worth, but salary should not be the only deciding factor when choosing between taking a job or not. There are other aspects of a job that should be considered when finding your next opportunity. Since you'll spend the bulk of your time there, you'll want to determine if the culture is right for you. Here are some other aspects that you should consider when thinking about the type of company you want to join.

A job that challenges you and keeps you excited supports your personal wellness

In the workforce you want to be comfortable in your position, but also pushed to learn more. This will help you develop new skills that you can add to your collection. Being challenged is good, but ensure you work for a company that supports you as you build your skillset, so that you take on those challenges with ease. Working for a company that wants to help you grow is exciting. There is always room for learning, so being excited to come into work every day is a great feeling.
1) Job security and opportunities for growth ensure longevity in your career
You should put serious thought behind working for a company that invests in your future by offering opportunities for growth. These opportunities will help you learn and allow you to progress within the organization. Additionally, a company that hires from within shows its willingness to invest in current employees and is eager to watch them develop along the way. A management system that nurtures your career from wherever you enter is effective because it will lead you to engage in work that puts you on the path to promotion. A sense of job security is unmatched because you will feel at ease knowing your job will be there for you tomorrow.
2) An extensive compensation package carries significant value on top of your salary
It is important to consider the benefits package that a company offers. Options like vacation, RRSP contribution, and health/dental benefits each carry a monetary value and should be evaluated. A competitive combination of the right benefits can help boost your happiness throughout work, and not just on pay days. Companies are now offering unique perks like, extensive periods of time off, gym discounts, discounts to your favorite stores, flexible work hours, and social club discounts.
3) A company that represents your values and gives back to its community creates a greater sense of purpose
Your place of work should encompass your values. Does the company donate to local charities and/or host fundraisers for causes that you are passionate about? Find out if the company takes part in any corporate responsibility initiatives that you are interested in being a part of. Being proud of your workplace and the causes it supports will make you feel fulfilled and accomplished. You will also feel like you are playing a part in making the world a better place.
4) Health and Wellness activities ensure stability in your everyday life
A company that values a work-life balance will help you feel satisfied. You're likely to be less stressed and as a result be healthier, both mentally and physically. It's proven that those with a better work-life balance, feel more fulfilment and are usually happier. Look into the company's health and wellness activities, and make sure they provide ample time off so that you can focus on your life beyond work.
5) A diverse and Inclusive environment keeps you and your coworkers engaged
A company that values diversity and inclusion will foster a culture that is open and welcoming to all. As a result, you won't feel like you have to "fake it" to fit in or hide material aspects of who you are to feel included, allowing you to flourish as your authentic self. This is important because it will contribute to your overall happiness at your company. Feeling like an outsider can lead you to disengage from your job and "emotionally withdraw" from the business. This can negatively impact your quality of work and slow career progression. Working in a diverse and inclusive environment will also help you develop your soft skills, particularly your curiosity, adaptability and interpersonal skills.
Visit here for more career advice to help you along your career journey
About this author
David Brown, Americas President, Chief Executive Officer USA
David, a 21-year veteran of the staffing business, has been in charge of overseeing all US operations for Hays since 2018. Prior to leading Hays US, David held a number of positions in sales, sales management, and senior management. With his wife and three children, David resides in Atlanta and actively supports a number of regional non-profit organizations.