Resume tips for a construction project manager
2 min | Alex Powell | Article | Job searching Resumes & cover letters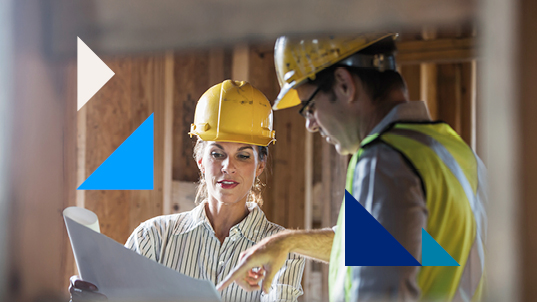 As a construction project manager, your resume needs to showcase your organizational skills, attention to detail, and ability to oversee complex projects from start to finish. Here are some tips for creating an effective resume that will catch the eye of recruiters and hiring managers:
1. Highlight your experience
As a construction project manager, your experience is the most important aspect of your resume. It is essential to highlight your experience in managing construction projects, including the size, budget, and scope of the projects you have managed.
For example, Dallas ISD high school new build, structural steel, and concrete build with some high-tech interior build-out valued at $40 million.
Structure your work history chronologically, focusing on construction PM roles. For each role, highlight metrics and accomplishments like square footage completed, number of units built, budgets maintained, etc.
2. Use action verbs
Start each bullet point with an action verb to showcase your accomplishments. For example, instead of saying "Managed construction projects," say "Led and managed construction projects from inception to completion."
3. Quantify your achievements
In the summary, highlight key achievements that demonstrate project management skills and use numbers and statistics to quantify your achievements. For example, if you saved money on a project, state the amount saved. If you completed a project ahead of schedule, state the number of days early.
Example: "completed major commercial building project 3 months ahead of schedule and $150,000 under budget."
4. Highlight your skills
Include a skills/qualifications section and highlight must-have abilities like budget management, change order management, reading architectural drawings, project scheduling, MS Project, and knowledge of building codes/permits. It is also important to include soft skills like communication, problem-solving, and leadership.
5. Tailor your resume to the job
Make sure to tailor your resume to the job you are applying for. Read the job description thoroughly and highlight the skills and experience that are most relevant to the job posting. Be sure to also include keywords and key qualifications they're seeking.
6. Keep it concise
Your resume should be no more than two pages long. Keep it brief and to the point, focusing on your most important achievements and skills. Format your resume cleanly and avoid dense blocks of text - use clear headers, bullet points, and ample white space. Construction hiring managers like being able to read things quickly and see information easily. Additionally, proofread your resume carefully to eliminate any typos or errors. This is crucial for construction roles, where attention to detail is highly valued.
7. Match your resume with your LinkedIn profile
Employers will cross check your online LinkedIn profile when reviewing your application, so it is essential that the information you have there aligns with your resume. Put the same dates and employers you've worked for on your LinkedIn that you've listed on our resume - having different information could get your resume discarded.
With a tailored resume highlighting your most impressive project management accomplishments, you'll appeal to recruiters and showcase value to potential employers in the construction industry.
About this author
Alex Powell, Executive Vice President
Alex is responsible for the Construction & Property, Engineering, HR, and Life Sciences business streams across the U.S.. With 20 years recruitment experience, Alex has managed businesses in the UK, New Zealand, Canada & the U.S. having helped set-up Hays in the latter two countries. During his career he has successfully led multi-discipline recruitment teams in multiple locations specifically setting up IT, Construction & Property, Accounting & Finance, and Engineering in the U.S. His experience covers temp & perm and utilizing both 360 & 180 recruitment models. Alex is a graduate of Anglia University (UK) with a BA (Hons) in Business, and since 2012 Alex has lived in New York City with his wife & daughter.