US Global Skills Index 2019
Global Skills Index 2019/20


2018 was a year of good news for the US economy with GDP growing by 2.9%. Highly skilled workers remain in high demand with the unemployment rate hitting 3.9%, the lowest it's been in almost 20 years, especially in areas like IT, construction and accounting. However, this high demand is fueled by the talent mismatch worsening, hitting an all-time high. Find out more with your copy of the GSI including the top three factors impacting the US market and key recommendations on how to tackle this dilemma.
About the GSI
The Hays Global Skills Index (GSI) is your comprehensive overview of the professional global labor market. Examining 34 markets, it assesses the key trends and challenges facing organizations as you search for the most sought-after skilled talent.
In addition to the deep analysis of some of the world's largest labor markets, the report highlights several factors impacting economies globally, including wage stagnation and its potential causes, the disappearance of mid-skilled jobs and the effects of occupational gender segregation.
US Additional Resources_right hand
Interested in additional resources?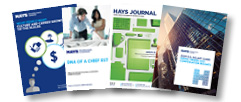 From salary guides, to blogs, career advice and more - we've got it.